Perhaps the years spent shirking the sunscreen are starting to catch up on your skin, maybe you're after a more effective way to 'blur' those wrinkles or you want to get rid of those scars or 'age spots' once and for all – these and other more complex skincare concerns can be addressed with these non-invasive, targeted treatments. They are surprisingly relaxing and when you see the glowing results in your healthier, clearer and younger appearance, any doubts you may have had about turning back the clock will be put to rest.
Our Treatments
If you are looking for a completely natural and gentle treatment for all-round skin health, this age-defying facial incorporates the use of LED therapy to overhaul the texture, clarity and tone of your skin without going down the invasive route. This new treatment offers one of the quickest, safest and painless ways to rejuvenate the skin by using LED panels that cover the face and neck, and a complex interaction of red and blue lights that helps elasticity, fights breakouts, and minimises the appearance of dark spots.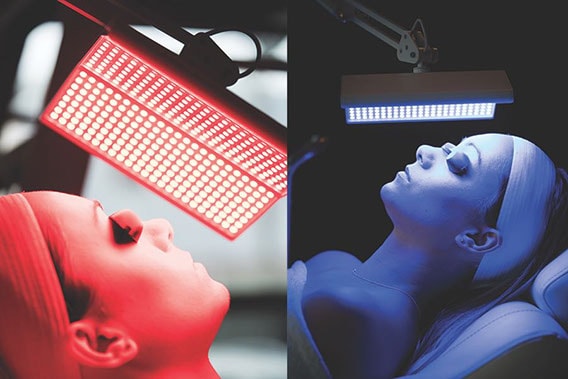 Red light LED stimulates cellular activity and collagen production, which gives skin its plump look, minimising fine lines and wrinkles, treating sun damage and reducing redness. Blue light LED works by killing bacteria that live below the surface of the skin, helping clear blemishes and acne.
The 75-minute treatment includes firming masks and serums that are delivered to the skin using an ultrasonic wand, helping to boost cell rejuvenation. The addition of sweeping and lifting facial massage movements leaves skin looking fresh and illuminated.
The Super Illuminating Facial is highly effective when part of a series of six treatments taken one to two weeks apart, followed by a maintenance treatment every month or two.
Skin Fitness Facial (30mins)
(Course of 6 treatments) £300
45-minute single treatment £75
Ever given your face a workout? The non-invasive Skin Fitness facial will do just that with the use of a micro-current to stimulate, tone and tighten facial muscles.
The micro-current is delivered through two small wands, one negative and one positive, stimulating the production of collagen, lifting, toning and firming the skin – all without needing to go under the knife.
The results are impressive – dark circles and puffiness around the eyes improve, fine and deep lines diminish, the jawline tightens, and the skin looks bright and dewy. The fastest and most effective workout you will ever try!
Since the treatment is re-educating the facial muscles, the results are cumulative. A series of six treatments is recommended for the results to reach their maximum potential. Follow this up with maintenance treatments every 4-6 weeks, and healthier, younger skin will be yours!
ThermaVisage Radio Frequency Facial (30 minutes per session)
(Course of 6) £300
Who doesn't want to know the key to supple, younger, brighter skin? Look no further – the revolutionary ThermaVisage treatment may just hold that key! For a non-invasive anti-ageing treatment, this state of the art machine will perform all kinds of mini miracles on your skin. Using a combination of radio frequency, vacuum suction and chromatherapy (the use of colours to adjust body vibrations to frequencies that result in health and harmony), ThermaVisage accelerates collagen production and contraction of collagen fibres to restructure and tighten the skin. The use of red LED light will further stimulate collagen, with blue LED light promoting calm and relaxation to help heal the skin. The treatment stimulates lymphatic drainage and boosts circulation to improve the texture of the skin. Warming, soothing and relaxing, Thermavisage can be personalised to suit the needs of your skin.
While you will see a noticeable change after the first session, the treatment is progressive which means you'll see the full, incredible benefits after several weeks. These are just some of the miraculous results you can expect to see:
Smoother, softer skin
Reduction in fine lines, improved facial contours
Lifting and tightening
Overall improved skin tone
Brighter, clearer complexion
A maintenance facial is recommended 6 weeks after the course is completed.
Facial Resurfacing Peel £195 (Course of three treatments, to be taken 2 weeks apart, subject to skin sensitivity)
Single treatment £70 (30 minutes)
Ideal for reducing superficial wrinkles and fine lines, this professional resurfacing treatment also works wonders on skin that is prone to acne, hyper-pigmentation (sun spots and brown patches), or looks sallow, pitted, or scarred. The multi-phase treatment will remove dull layers and accelerate cell renewal, leaving the skin with a more balanced and uniform look. No redness, no inflammation, no irritation – the only possible after-effect is a little tightness which disappears in a day or two, once the skin has rebalanced.
To regain optimum skin health, a total of six treatments is recommended – one every fortnight.
A combination of three Facial Resurfacing treatments and three IonActive Power treatments is also available. Additional benefits include a focus on hydration and pigmentation to create equilibrium in the skin. Highly recommended for congested skin, this combination of treatments is a true powerhouse when it comes to smoothing and tightening the skin.
Skin consultation and patch test required before first treatment.
Diamond Dermabrasion
£40 (30 minutes)     £80 (60 minutes)
Diamond dermabrasion is the ultimate treatment for skin rejuvenation, producing instant, visible results. It incorporates exfoliation (using diamond heads) and vacuum stimulation, creating a firmer and fresher complexion.
There's no downtime following the treatment, using pure mineral make-up you can go out and about the same evening.